ZOOM EVENT May 12th 10.00 am
Sight Advice South Lakes invite you to a talk by Nick Thomas, about life in sport and employment while being visually impaired Thursday May 12th  10.00 am on Zoom
Sight Advice South Lakes Cumbria, along with the 6 other award winning Rainbow Collaboration Group members  would like to invite you to a joint Zoom  event with inspirational speaker Nick Thomas.

Nick is a very positive person and he will share his life experiences with you around both his sporting and career achievements and explain how barriers that sight loss may be there for some people can be jumped by sharing some of his story and real life experience.Should be a great session.

So please come and join us, on 

Thursday May 12th 10.00 am

, tell your friends and family!

Meeting details are as follows. 

Please note this is a public event, so please  join us on Thursday at 10.00 AM on the following link below. 

Join Zoom Meetinghttps://us02web.zoom.us/j/4580437872  Meeting ID: 458 043 7872
For those without technology or the internet, you can join with your normal landline phone very easily, details below.
FOR THOSE ON LANDLINE PHONE dial 0203 481 5237 and when asked put in the Meeting ID: 458 043 7872
You might be asked to enter hash at the end also.(bottom right button on phone dial).
The call may be charged at a local rate, however if like many people you have a free calls package it will probably be free, if in doubt please check with your phone provider.
Look forward to seeing you all, Tim.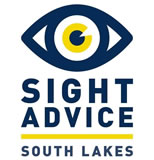 Demonstration and sale of Assistive Technology  Wednesday May 11, 10.00 am to 2.00 pm Sight Advice South lakes, 116 Highgate, Kendal.We are delighted to announce that Richard Bowring of Associated Opticals will demonstrate a full range of electronic magnification, pocket size up to desk top,  and anti glare glasses at Sight Advice building on Wednesday May 11. 10.00 am till 2.00pm If you purchase on the day there are some amazing savings that Sight Advice have agreed with Richard.   Smartlux 5" – £399 on the day                   (£590 on website save £191) Visolux HD 7" – £550 on the day                (£780 on website save £230) Visolux XL 12" – £999 on the day               (£1449 on website save £500) Vario FHD 16" – £1,650 on the day            (£2050 on website save £400)    Make an appointment on 01539 769055, or just feel free to pop in if you are just curious and Richard will happily demonstrate the products.